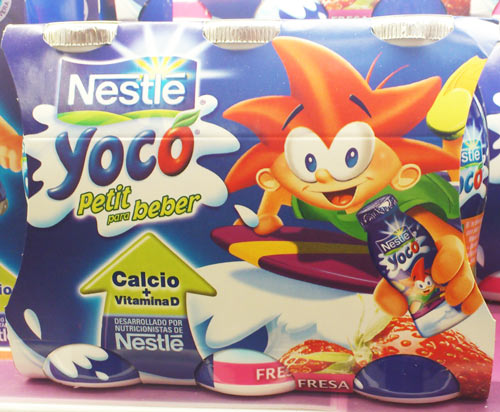 Yogurt drink Advertising Character: Nestle Yoco
This character adorns several Nestle products but I couldn't find one in the supermarket where he had a skateboard. He reminds me of Knuckles from Sonic the Hedgehog mixed with the art of Tom Paterson (The Beano)

Skateboard and Cool Paraphernalia
Hmmm…no skateboard…but he appears with a mountain bike on another package.

Attitude: Bad Boy or Certified Whack?
The fact that he's lying down on the surfboard  instead of actually surfing AND he has flippers on makes him a little wussy. I think his hair was meant to be 'punky' but it looks odd.

Artistic Merit
As a whole, this packaging really works but his eyes and hair look over-rendered and lifeless. This is probably a case where the artist's original sketches were much more dynamic and vibrant.

Wukomi Wrap up
Nestle can afford to better than this. It's a great packaging design, it's lively and bright but I get the sense that this is over worked and the life has been sucked out of it. This character is highly polished and developed but it's not what I'm looking for…
See here for the Introduction to the Cool Skateboard Dude Quest and an explanation of the grading system.